THE THELONIOUS T. BEAR CHRONICLES
The cozy mystery/satire series by Teddy Tedaloo
(and his mama, Mitzi Szereto)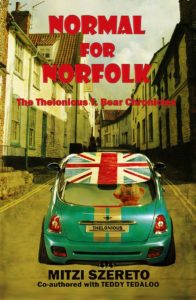 NORMAL FOR NORFOLK (THE THELONIOUS T. BEAR CHRONICLES)
(Book #1)
Available in trade paperback and e-book formats.
Thelonious T. Bear, ursine photojournalist, leaves behind the big city life of London to take an assignment in the Norfolk countryside, where he hopes to find the real England. Instead he stumbles upon gastropubs, crazed Audi drivers and murder. As the hapless Thelonious keeps ending up in the wrong place at the wrong time, he attracts the attention of Detective Chief Inspector Horatio Sidebottom of Norfolk Constabulary CID, who's determined to tie Thelonious to the crimes. Add in a pair of hoods from London's East End, celebrity TV chef Paolo Louis Black, and plenty of oddball local characters and it all adds up to a madcap journey through England's most quirky county, where everything is normal (for Norfolk)!
"Thelonious T. Bear is a modern knight errant who plays it cool even as the light of suspicion shines on him. And like Paddington, he's short of stature and long on charm. If you like your sleuths tough, cynical and cute as a button, Normal for Norfolk is the book for you."—Steve Hockensmith, author of Holmes on the Range and Pride and Prejudice and Zombies: Dawn of the Dreadfuls
"A rural crime novel I found approachable and engaging, featuring an oddly detached hero who just happens to be a small bear…. I enjoyed my visit to Norfolk and I could certainly bear another outing (sorry)!"—The American magazine
"Tongue-in-cheek humor, including some clever political and social commentary, hair-raising escapades, and eccentric characters that you know you've met before (in your own life!), despite their very Englishness, all add up to a laugh-a-line read. I loved this book."—Readers Favorite Book Reviews
Visit: Normal for Norfolk (The Thelonious T. Bear Chronicles)
Watch the book trailer!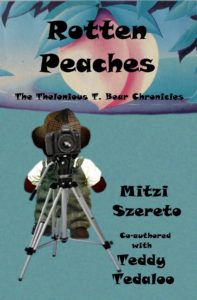 ROTTEN PEACHES (THE THELONIOUS T. BEAR CHRONICLES)
(Book #2)
Available in trade paperback and e-book formats.
"Animal Dwarf Bandits" with Tommy Guns are on a crime spree in Georgia! Dillinger-style bank heists are being committed by a dangerous gang of little people wearing animal masks. Enter ursine photojournalist Thelonious T. Bear. Still smarting from his misadventures in Norfolk, he's eager to begin his assignment in the American South. However, Thelonious soon learns that the South isn't all fried chicken and sweet tea. In between encounters with a trigger-happy farmer and a fire-and-brimstone preacher with a snake, he's stalked by a man in a red pickup truck and nearly bear-napped by a family of hillbillies. Thelonious's resemblance to one of the bank bandits puts him on the radar of Sheriff Maynard Grizzle and budding reporter Nate Jessop, both of whom are convinced he's in the gang. As the robberies gain more media attention, locals smell fame in the air. Suddenly everyone wants in on the action. And Thelonious finds himself at the heart of yet another series of crimes!
"A fanciful bank robbery in a small-town Southern community entwines a clever British bear as he suffers culture shock. Sweet tea, grits, no hold on the satire. Prepare to be tickled!"—Vicki Hendricks, author of Fur People
Visit: Rotten Peaches (The Thelonious T. Bear Chronicles)
Watch the book trailer!